6 June 2019: The Malaysian dubbed "rock-star" professional congress organiser Anderes Fourdy (AF) today inks the deal with Ms. Amy Yu to take over Crest Evendz Sdn Bhd. The company will be renamed Anderes Fourdy Events Sdn Bhd (AFE).
This acquisition will allow AF Group to continue taking in high-profile clients without losing momentum on their string of successful congresses since its inception in year 2015. The acquisition will see an increase of talents within the AF Group especially with the inclusion of Amy Yu and Rachel Loke, both respected veterans and professionals in the Malaysian events business.
It will also afford both AF Group's founders Fu Kei Cheong, CMP (KC) and Rahul Bharadwaj, CMP more time in both business events consulting and developing an international franchise system for PCOs. "Many of our industry friends have invited us to collaborate with them in their respective countries. We are always happy to share, and this merger provides us the opportunity to expand what we love to do. You'll be hearing from us in different countries!" KC announced during the signing ceremony.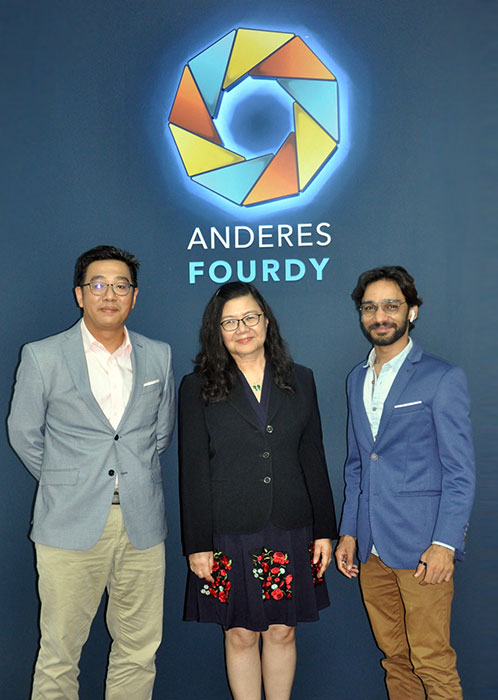 From left to right: Fu Kei Cheong (KC), Amy Yu, Rahul Bharadwaj
By combining resources and revenue streams, Anderes Fourdy Events will further solidify its position as the top PCO in Malaysia. Crest Evendz's existing clients will also stand to benefit from the various congress technologies developed in-house by AF which includes bespoke systems for registration, abstracts, logistics and association membership. Amy, who is now the Director of Operations in the new outfit, stated, "We have collaborated with AF on multiple projects since 2017 and our chemistry is excellent. Their work culture is commendable and I am very excited for the growth opportunities that will come with working with KC and Rahul. Together, we will continue to bring the highest quality PCO solutions to all our clients and business associates."
"AF's mission has always been to represent our clients' best interest. We always ensure that our clients (big or small, old or new) are glad to have us on their team. With this merger, we have the added benefit of a greater capacity to serve a larger client base and deliver more congresses while upholding our exacting standards of client servicing", added Rahul.
Anderes Fourdy Events Sdn Bhd (AFE) is a Professional Congress Organiser (PCO) and Association Management Company (AMC). AFE also provides Business Events Consultancy for convention bureau and centres around the world. AFE is majority owned by Anderes Fourdy Sdn Bhd (AF), a Multimedia Super Corridor company that focusses on developing Congress Technology.
AF Group is known to deliver successful high-impact international congresses such as 9th World Urban Forum, 20th Asian Pacific Digestive Week, 14th Asia Pacific Association of International Education Congress, 22nd World Congress of Enterostomal Therapists Biennial Congress (WCET), 8th International Forum on Disability Management, 6th World Congress of SIVA-TCI and 14th Endoscopic and Laparoscopic Surgeons of Asia Congress. Their clients also include corporates like Digi, Maxis, Petronas and exhibition companies.
Crest Evendz is a PCO based in Selangor, Malaysia. Over the past decade, they specialized in delivering Asia Pacific and national medical congresses. Their clients include the Clinical Research Centre (CRC), the Malaysian Society of Nephrology (MSN), Malaysian Endocrine and Metabolic Society (MEMS), and Malaysian Diabetes Educators Society (MDES) to name a few.
Contact:
Eveline Fan
Project & Marketing Manager
Tel : +60 12-229 1349
email : eve@mymeetingpartner.com